Pedicure
Nowadays pedicure belongs to a common type of care and therefore we are glad to be able to offer this service to you as well.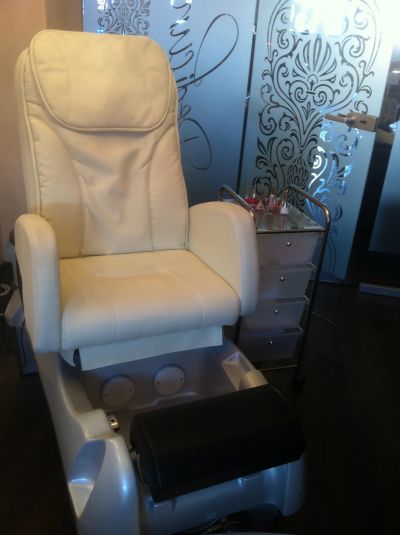 We may not forget that our feet carry us during the whole life. They deserve a thorough care. In our place pedicure is a relaxing experience because it is performed in a unique pedicure relaxing chair that massages your back and neck when at the same time your feet are being massaged by water jets. In this chair not only your feet will relax, but also your soul. Basic pedicure consists of feet bath with addition of sea salt, nails cutting, nails repair, nail cleaning, pushing the cuticle around the nails, nail bed treatment, overgrowing nail treatment, thickened feet dead skin removal and at the end we provide feet with a short massage. Based on a need thereafter we perform blister treatment and wart removal. In the price of basic pedicure is also one layer lacquering by transparent lacquer. Ladies may use also a possibility to get their nails polished and lacquered in a classical way, or French lacquering. We offer also very effective gel nails for toes and nails shaping.
Nowadays, pedicure is visited not only by women, but also for men, and children, where nails overgrowing is not rare.
Paraffin wrap on feet
Paraffin is a special form of wax, gained from oil, enriched with vitamin E. Paraffin layer increases blood circulation, releases pores and may help at degenerative leg joints diseases. It results in the fact that feet efficiently absorb creams, keep moisture, smoothness and nourishment. Dry and thickened skin will reach again its natural softness and health appearance. Excellent results are achieved even with very hard and thickened skin on feet. The effect is visible yet after the first use.
For Price List of our services click here >>>