Chocolate therapy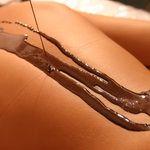 You would not believe how perfectly it is possible to relax with the help of chocolate!
Apart from the fact that it tastes really good it has a number of other qualities as well. Cocoa protects our body against cardiovascular disease, decreases blood pressure, risk of heart-attack and supports blood circulation. Polyphenol that cocoa contains has high antioxidant effects, proteins on the other hand care for improvement of microcirculation in the skin, which means that with their help skin will become again beautifully pink without cellulitis and wrinkles.
Chocolate therapy arises pleasure and delight, soothes your senses and creates overall harmony between the body and mind.
Chocolate therapy consists of these steps:
whole body peeling performed by special mixture with cocoa and kiwi pits, by peeling the skin will get rid of dead cells, smoothes itself and get ready for absorbing nourishing substances from chocolate
a masseuse will spread heated chocolate mixture with high content of fat and cocoa on your body. We will wrap you into plastic sheet and thermo-blanket where you will lie for 20-25 minutes. Meanwhile the chocolate dissolves, you relax and intensively perceive chocolate scent, which causes release of endorphins – hormones of happiness.
after the time of acting, you will get shower shampoo with chocolate scent and you will wash away the wrap in the shower
what follows is a whole body massage with swirling movement and rubbing in chocolate massaging butter for harmonization and skin relaxation
In the price of chocolate therapy is included:
several pieces of quality chocolate before the procedure itself to awakening taste buds
bathrobe
towel
disposable thong briefs (gentlemen´s or ladies´)
Chocolate therapy serves for:
increases skin elasticity, its toning, against cellulitis
improves blood circulation and strengthens vascular tissues
stress relief and relax
fulfilling dream – bathe in chocolate:-)
Contraindications:
infectious diseases (hepatitis, HIV, warts,…)
acaulinosis and mycosis
high blood pressure
allergy to any elements
inflammations
cold
pregnancy
Duration of whole body chocolate therapy is approximately 1 hour 15 min.
For Price List of our services click here >>>